The Sun Rising State of India "Magical Arunachal Pradesh Tour"
Popularly known as 'Land of the Dawn-lit-Mountains'. Arunachal Pradesh is India's remotest state and the first Indian soil to greet the rising sun. Located on the Northeastern tip of India with its borders touching China, Bhutan and Burma (Myanmar), this beautiful land is endowed with dazzling array of flora and fauna that is sure to allure any tourist. More than 500 rare species of Orchids are found in the dense jungles of Arunachal Pradesh. The misty hills, sparkling rivers, gurgling waterfalls add charm to the beauty of this incredible land. Arunachal Pradesh finds its mention in the literature of Kalika Purana and the great Hindu Epic Mahabharata. It is believed to be the Prabhu Mountains of the Puranas. According to a Hindu mythological legend, Arunachal Pradesh was the place where sage Parshuram washed away his sin, sage Vyasa meditated, King Bhishmaka founded his kingdom and Lord Krishna married his consort Rukmini. Ruled by many powerful dynasties and kingdoms, Arunachal Pradesh India is dotted with innumerable historical monuments and archeological remains, which bear testimony to its rich cultural heritage.
There are many historical edifices, national parks, museums, monasteries, and sacred pilgrimage sites in Arunachal Pradesh.
Surrounded by lush green mountains, thickly wooded forests, Arunachal Pradesh is a paradise for adventure freaks. Adventure tourism in Arunachal Pradesh offers numerous adrenaline-pumping activities including trekking, hiking, rock climbing, and camping. The splashing rapids of the roaring rivers are ideal for rafting and angling.
The ideal time to visit Arunachal Pradesh is between the months of October and March.
Route : Tezpur → Bhalukpong → Dirang → Twang → Bomdila → Nameri → Tezpur
Duration : 07 Nights / 08 Days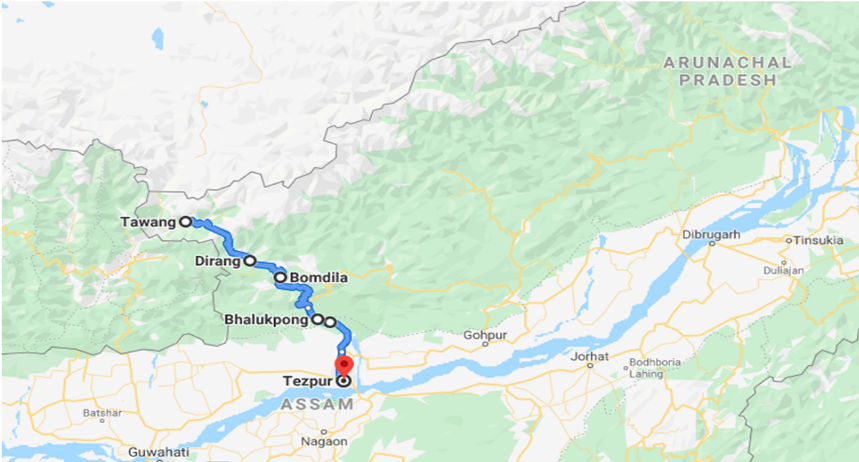 Places to Stay:
01 Night Accommodation at Bhalukpong in Prashaanti Cottage/Waii International.
01 Night Accommodation at Dirang in Norphel Retreat/Hotel Pemaling/Awoo Resort.
02 Nights' Accommodation at Tawang in Hotel Yangzom/Hotel Mon Paradise/Tawang Heights
01 Night Accommodation at Bomdila in Hotel Tsepal Yangzom/Lungta Residency/Hotel Elysium
01 Night Accommodation at Nameri in Eco Camp Nameri/Lalimou Camp
01 Night accommodation at Tezpur in KRC Palace / Greenwood Resort / Welkin Residency
Tour Highlight's:
Excursion to Bhalukpong Fort (built by King Bhaluka on the Bank of River Bharali), Tipi Orchidarium (to witnessed 500 rare species of Orchid), Nag Temple, Pakke Tiger Reserve in Bhalukpong.
Excursion to Apple Orchard & Kiwi Farm (depending upon season), Dirang Monastery, Kalachakra Monastery, Hot Water Springs (take bath to cure skin ailments), Dirang Dzong (a tribal area on the shores of Dirang River to witnessed the architecture of tribal colony) in Dirang.
Excursion to Sela Pass, Sela Lake (remains frozen most of the year), Jaswantgarh War Memorial (a Memorial of brave Soldier during 1962 Indo Chinese war), Nurang Falls (SRK & Madhuri Dixit Koyala movie shot place), Twang Monastery, Tawang War Memorial, Urgeling Gompa (6th Dalai Lama's Birth Palace), Taktsang Gompa, Bumla Pass (famous pass which was used by Dalai Lama to enter India) in Tawang.
Excursion to Gontse Rabgyaling Monastery (Upper Gompa), Thub-Chog Gatsel ling Monastery (Lower Gompa), Bomdila View Point(Witnessed Panoramic view of Himalayan Landscapes & Snow clad ranges)in Bomdila,
Excursion of Nameri National Park (a tiger reserve and famous for Bird species),
Travelling By:
Ex Raipur Flight tickets,
All tours and transfers by Private Chauffeur driven.