Breathtaking North East Tour Package from Guwahati
The best culmination of the beauty of North East is Assam, Meghalaya and Arunachal Pradesh. This tour package will bring out the most serene chance of seeing the most beautiful parts of the North East India. Assam is the place which is famous for the rolling hills covered in gardens of tea, while Meghalaya is known for its natural beauty, charming weather and the amazing culture of the people who call this place their home, and at the same time, Arunachal Pradesh is famous for the open society and the unmatched beauty and hospitality.
Route : Guwahati → Shillong → Kaziranga → Bhalukpong → Tawang → Dirang → Nameri National Park → Guwahati
Duration : 13 Nights / 14 Days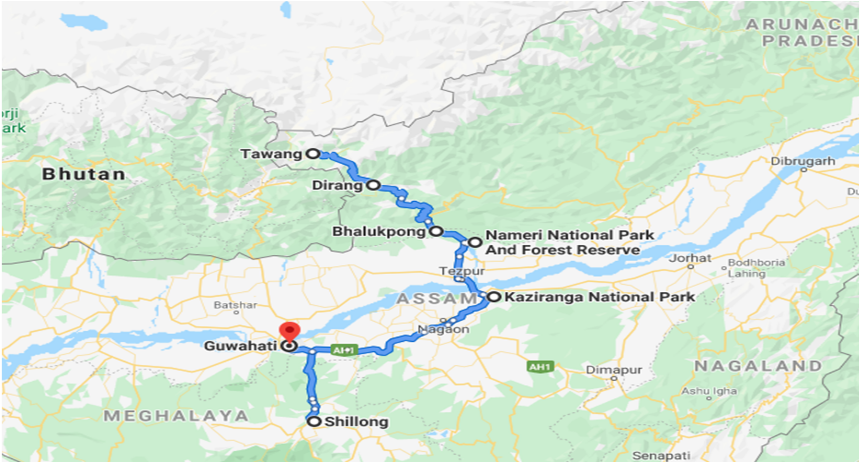 Places to Stay:
03 Nights' Accommodation in Shillong,
02 Nights' Accommodation in Kaziranga,
01 Night Accommodation in Bhalukpong,
02 Nights Accommodation in Twang,
02 Nights' Accommodation in Dirang,
01 Night Accommodation in Nameri,
02 Nights' Accommodation in Guwahati,
Tour Highlight's:
Explore Cherrapunjee (the wettest place), Mawsmai Cave, Living Root Bridge, Noh-Kalikai Falls, Dain-Thlen Falls, Shillong Peak, Cathedral Church, Lady Hydari Park, Elephant Falls, The Orchidarium, Golf Course in Shillong,
Explore Kaziranga National Park by Jeep Safari, where you see One Horned Rhinoceros, Asiatic Water Buffaloes, Swamp Deer, Hog Deer, Gaur, Sambhar and many other species of birds,
Explore Bum La Pass, Peng Teng So Lake, Shungaster Lake(Also known as Madhuri Lake after Movie koyla), Twang Monastery, Twang War Memorial in Twang,
Explore Dirang Valley where you visit Hot water Spring, Apple, Kiwi Garden, Sangti Valley, Zimthung View Point in Dirang,
Visit Nameri National Park, the third National Park in Assam where you can see 300 species of Birds, animals like Sambhar, Barking Deer, Hog Deer, Wild Boar, Gaur and many more,
Explore Guwahati by visiting Kamakhya Temple, Umananda Temple, Ferry Ride in Brahmaputra River ( by own) ,
Travelling By:
Ex Raipur Flight tickets,
All tours and transfers by Private Chauffeur driven.