North East's Nature Wonder Shillong, Meghalaya
Meghalaya the most beautiful and breath taking place to visit in India. Meghalaya stands for "Abode of Clouds".
Meghalaya is a place where the constant rain throughout the year has created wonders in its unique forms. Forests, mountains, and rivers have taken such a shape and scope that one really feels the massiveness of nature. Huge waterfalls, sacred forests, and caves in Meghalaya have been hidden from the world for many years.
The State Meghalaya is situated on the North East of India. It extends for about 300 kilometres in length and about 100 kilometres in breadth. It is bounded on the North by Goalpara, Kamrup and Nowgong districts, on the East by Karbi Anglong and North Cachar Hills districts, all of Assam, and on the South and West by Bangladesh.
Shillong, the capital of Meghalaya is located at an altitude of 1496 metres above sea level. Shillong, which was made Assam's capital in 1874, remained so till January 1972, following the formation of Meghalaya. The capital city derives its name from the manifestation of the creator called Shyllong.
Meghalaya is subject to vagaries of the monsoon. The climate varies with altitude. The climate of Khasi and Jaintia Hills is uniquely pleasant and bracing. It is neither too warm in summer nor too cold in winter, but over the plains of Garo Hills, the climate is warm and humid, except in winter. The Meghalayan sky seldom remains free of clouds.
Route : Shillong → Cherrapunjee → Mawlynnong → Mawsynram → Dawki → Shillong
Duration : 05 Nights / 06 Days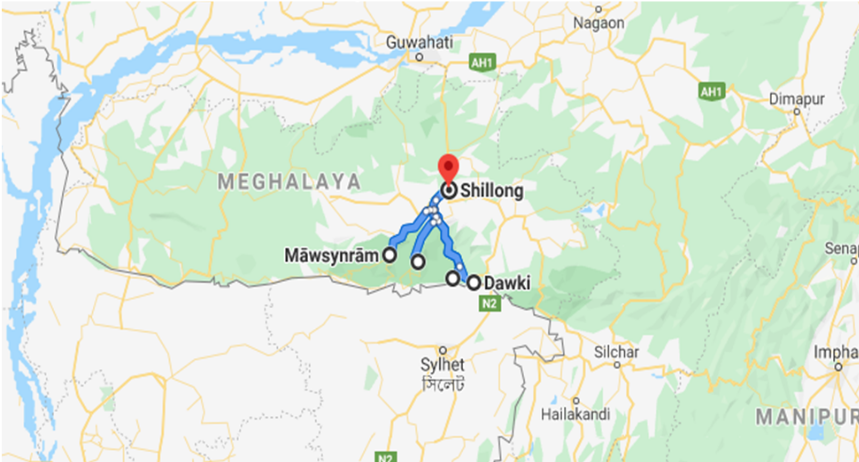 Places to Stay:
02 Nights' Accommodation.
03Nights' Accommodation in Shillong.
Tour Highlight's:
Excursion to Shillong Peak, Elephant Falls and Umiam lake in Shillong,
Excursion to Cherrapunjee the Land of Caves (Krem Liat Prah, longest known caves), Living Root Bridges (set of Bridge which is formed out of Barks as well as trunks of the trees), Nohkailikai Falls (Tallest Plunge Water Fall)
Visit to Asia Cleanest Village Mawlynnong,
Visit to Dawki (a small town located in Jaintia Hills) lies on Bangladesh border and the lake Umngot (Cleanest River) flows here,
Visit to Mawsynram, the place of heaviest Rainfall and deepest caves,
Travelling By:
Ex Raipur Flight tickets,
All tours and transfers by Private Chauffeur driven.